In Heaven with a Chromebook
Chromebooks: No-nonsense and easy to use with no maintenance: what is there to dislike for the older generation? Boots up in seconds, no worries about viruses and malware, no software to buy and no endless Windows 10 updates.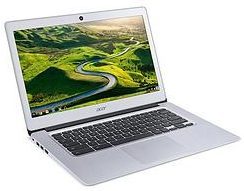 At my advanced age (well not so advanced I like to think), you want to keep things simple. So Chromebooks are ideal. They are lightweight (1.6kg for the techies) – easy to carry when you go on holiday! All your files, documents, and photos are stored on the cloud (in my case Google Drive) so you have easy access wherever you are in the world.
My shiny Acer Chromebook 14 looks like a Mac Air, with 4GB RAM and 32 GB – eMMC SSD onboard disc. So no spinning hard disc – noiseless and no feed for a fan. The advantages keep piling up. The display is superb in all lights with Full HD 1080. Inside is an Intel Celeron CPU which is super fast as most of the processing is done on the cloud servers. All this adds up to 12 hours of battery life (so they claim – even if that is a bit optimistic!).
Chromebooks for Reviewing
Quick to boot up, and even quicker in sleep mode. Lightweight and long battery life cf most laptops. Bright clear screen. Who needs a Kindle? Yes, I know Kindle does have some advantages. Anyhow to the crux – just fire up the Kindle Cloud Reader on https://read.amazon.co.uk/ and your library of books is waiting! So when reviewing, it is easy to use notes, copy and paste, use the online dictionary/wikipedia. In another tab you have your draft review document on the free Google Docs. Easy, peasy! But perhaps reading is not your only requirement …. ???
Enough Chromebook Software and Applications?
From day one without any setup, you have access to the internet with the Chrome browser and all Google applications. Just use your existing Google id and password or create a new Google account if you are a newbie! So Gmail, maps, calendar, contacts and Youtube are all available immediately. I use Google Photos (on the cloud too) to store all my photos (for free – good budget saver! Although will end soon) and collate them into albums. Easy to share with friends and relatives (without them having them use YOUR Chromebook). I can access the photos on my TV too thanks to the wonders of modern technology!
Good ole Google Office
If you are an MS Office user do not be scared to use the FREE (yes free, no annual subscriptions) Google Documents (the word-processor), Sheets (spreadsheet), Slides (Presentations) on the Cloud. They are simple to use with hidden power and functions. The apps reside on the cloud, and files are automatically saved to the Cloud storage space.
More Applications?
Many of us just browse the internet or view funny cats on Youtube or answer emails and little more. But and it is a BIG but, there are plenty more applications available. In the early days Chromebook only had access to Chrome Web Store but drum roll you now have all the apps on Google Play Store. Be warned: Some apps may not work on Chromebook though. I subscribe to Amazon Prime, and in particular like music. So the Amazon Music app was an easy install and I can listen to all my Playlists. The media speakers on the Chromebook are good and the reproduction is excellent. Amazon Prime Video app works great so watch TV and Films whilst on holiday. Incidentally, while I write this in WordPress, I have open about 10 chrome tabs, and Amazon music playing. Chromebook shows no sign of lag.
I also use the MediBang Paint app for drawing and manipulating photos. Still no slowdown on the Chromebook.
Bucket List Gift
If you are a power user and need high-end software then a Chromebook is probably not for you! But how many silver surfers are in that camp? Believe me, a Chromebook has to be on your Bucket List. Yes, I am a convert to Chromebook. Check out the latest Chromebooks