Inspiration has struck and you have planned your first novel (or even a subsequent novel). Congratulations on the first step. Let us assume you have not secured a publishing deal or appointed an agent or publicist. We can dream! Most new authors will have been wondering about the how and whys of marketing/promoting your book. Writing after all is your main concern. Right? Your time is devoted to creating your masterpiece – research, writing, rewriting, struggling with words, and contemplating! Nobody said writing your first book was going to be easy.
When does Marketing (Promoting) Begin?
Sowing the seeds should start at an early stage. Early adoption of a strategy is critical. You can set the scene, grow your audience, give them tasters, snippets of text, share the cover design, encourage feedback, etc. Expectations are raised, readers will want to read your book, and early sales will result. How am I going to find the time, you might ask? Well, first use friends and relatives to network – encourage them to use social media and forums to build an audience.
Social Media Networking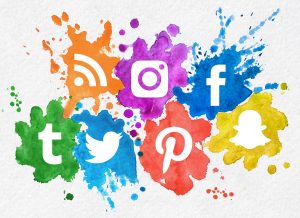 Of course, most of the effort will fall on your shoulders! Do you already have a Facebook or Twitter presence? If not, join! These are totally FREE. Although Twitter and Facebook do have ultimate control, and can ban you or suspend the account. Rare but possible.
Twitter
When registering your "handle" such as @yourname or @booktitle, the length is limited to 15 characters. If you intend to write more than one book, I suggest you use @yourname or @pseudonym. Note: this cannot be changed at a later date. Twitter allows you a more generous 50 characters title (so could be the Book Title for example). More about setting up Twitter
For a professional appearance, you will need to create a profile with an interesting bio, header photo (or banner) and profile photo. Many professionals suggest using a good photo of your self for the profile photo.
I highly recommend Canva for creating logos, profiles and banner. There is a free version that is comprehensive and easy to use. The video below will show you how to use the Canva product.
Facebook
Facebook is a well known social media app. You can create your own Facebook and then Facebook Pages that can be used to promote a particular book title. More on getting started with Facebook.
Posting to your Social Media Accounts
With both these social media accounts, you can start to promote your forthcoming title. Post regularly, retweet, and like tweets to encourage followers. Follow other interesting authors, etc. to increase the number of followers! More ideas to promote your title on twitter.
Other vehicles to consider
Another popular tactic is creating your own website! This sounds daunting but there are many free and easy to use possibilities – such wordpress.com, tumblr, and WIX to mention just a few. Again, a word of warning: you do not own your site on these platforms. They can pull the plug. As before, rare but always a concern. My personal favourite is setting up a site on WordPress. Help with getting started with WordPress here:
My advice is to build your own author website with a reputable hosting company. A quick search on Google will reveal many providers. I have been using MilesWeb.com and found them exceptionally helpful but there are plenty to choose from. WordPress has software available on most (if not all) hosting platforms. Although you will be using the WordPress application, this site is your own and WordPress cannot suspend the account! Setting up WordPress might sound challenging but it is relatively straightforward. There is a comprehensive video on setting up WordPress, below:
WordPress Site Built for You
If this is a step too far, RdrStr are experts in setting up WordPress sites. Use the contact form below if you are interested in further details.
Create Demand for your Title
SavvyBookwriters have a great article about extending your reach and building sales. Here is an extract:
For your book to sell, you need to create the demand. You need an audience, a platform – which you will get when your book is showing up on many websites and forums, visible to readers. Make it a habit to submit your book to at least 2-3 websites a day. Don't forget to post links to them on Twitter, FB, Tumblr, StumpleUpon, LinkedIn, Chime.in, Pinterest … whatever social media you are signed up. In one month you will have your book on all of these listed sites and you will see a difference in sales:
.
1. Goodreads
Use your free membership to promote yourself and your books. Reviews are essential and reviews on Goodreads site help your book to really stand out to millions of visitors.
2. Wattpad
Wattpad has experienced explosive growth since its inception and has become the world's most popular destination to publish and read e-books. Wattpad delivers billions of pages from its library of works created and published by the Wattpad community.
3. On BookTalk
You'll find an online reading group and book discussion forum that can help you discover new books. If you're an author or publisher looking to promote your books, you are welcome to use BookTalk.org as a tool to reach a vast audience of book lovers. They have a Google Page Rank of 5, over 14,000 members and close to 700,000 site views per month. Book discussion forums are free and open to anyone including authors and publishers. Create a free account and write about your books in either the Fiction Book Forum or Non-Fiction Book Forum. Mail a few copies of your print book and it will be advertised. They will advertise your book on the Home page for 15 to 30 days and on the Featured Book Suggestions page permanently."
4. And then, there is another Booktalk
Booktalk.com is an online booklovers' community composed of many of today's bestselling and popular authors. Personalized author home pages contain excerpts from bestselling novels as well as information about upcoming releases, author notes and personal hobbies and interests as well as publisher, literary agent and book industry information. Writing related articles by Booktalk authors and others in the writing community and upcoming literary events are also included.
5. KindleBoards
Authors are always welcome to post about their books in the Book Bazaar.
6. Library Thing
Social networking site and forum for book lovers. Free profile where each book contains tags, reviews and links to conversations about the book.
7. Shelfari
Enables you to build a virtual book shelf, that include book reviews from Amazon and to interact with your Shelfari community.
8. Authonomy
Features weekly top rated books, top talent spotters. You can join the forum, upload books and post reviews.
9. WritersNet
List yourself at this writers and authors directory, sorted by genre or location. Various resources for writers, agents and publishers.
10. Bibliophil
Forum about books. Offers: profile with books appearing in signature, list of favorite and wished books.
This is just an extract, there are plenty of great ideas on this site. Go here for more details:
https://savvybookwriters.wordpress.com/tag/websites-to-announce-your-book-for-free/
Get Started here
RdrStr are proud to offer a range of web services including building website(s). Please contact us below: